They're losers and they don't know it, that's why they cling to a hope that's always on the move and will never wait for them. Hatred and loneliness, let-downs and disproportionate loves, animals of uncertainty and desperation. Whose dreams come true lately anyway?
Lilian Rosado González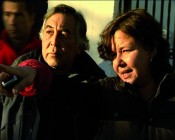 Studied Drama at the Higher Institute of Art in Havana and Screenwriting at the International Film School of San Antonio de los Baños (Cuba). As a screenwriter, she has worked on Las cenizas del volcán (2000), Cuentos de la Guerra Saharaui (2003) and Agua con sal (2004), all films by Pedro Pérez Rosado. She also directed, likewise with Pedro Pérez Rosado, the feature La Mala (2008), winner of the Audience Award at the Ibiza International Film Festival and Best Screenplay at the Tirant Festival in Valencia.
Director:
Lilian Rosado González
Screenplay:
Lilian Rosado González
Production:
Pedro Pérez Rosado
PÉREZ ROSADO PRODUCCIONES, S.L.
Subida de la Ermita 1
Gilet, 46149 Valencia
Tel +34 96 262 07 63
prp@perezrosado.e.telefonica.net
Photography:
Federico Ribes
Edition:
Pedro Rosado
Music:
Vicente Sabater
Cast:
Nuria Herrero, Yoima Valdés, Sergi Caballero, Alfred Pico, Candela Fernández, Eduardo Velasco
Running Time:
86 m.