Catherine, a successful doctor, suspects her husband David, a handsome music professor, is cheating on her. To lay her suspicions and fears to rest, she hires an irresistible young woman, Chloe, to test David's fidelity. Chloe's torrid tales of her encounters with David lead Catherine on a journey of sexual and sensual re-discovery. But by opening the door to temptation, she puts her family in grave danger...
Atom Egoyan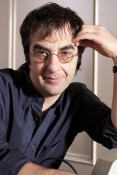 He has carried off some of the most prestigious awards, including the Cannes Grand Prix and two Oscar nominations for The Sweet Hereafter (1987) and the Freedom of Expression Award from the USA National Board of Review for Ararat (2002). His other films include Family Viewing (1987), The Adjuster (1992), Exotica (1994), Felicia's Journey (1999), Where the Truth Lies (2005) and Adoration (2008), the last three of which competed at Cannes. In addition to being a movie director, screenwriter and producer, he has also directed theatre, opera and TV.
Director:
Atom Egoyan
Screenplay:
Erin Cressida Wilson
Argumento:
Philippe Blasband, Anne Fontaine, Jacques Fieschi, Françoise-Olivier Rousseau
Production:
J. Clifford, D. Dubiecki, J. Medjuck, T. Pollock, I. Reitman, J. Reitman, S. Urdl, J. WeissMontecito Picture Company9465 Wilshire Blvd, Suite 920Beverly Hills, CA 90212Tel +1 310 247 98 80Fax +1 310 247 94 98tpollock@montecitopic.com
Co-Production:
StudioCanal (France)
Photography:
Paul Sarossy
Edition:
Susan Shipton
Music:
Mychael Danna
Cast:
Julianne Moore, Liam Neeson, Amanda Seyfried, Max Thieriot, R.H. Thomson
Sales:
StudioCanal1, place du Spectacle92863 Issy-les-Moulineaux Cedex 9Tel 33 1 71 35 10 81 / 33 1 71 35 08 79marie.boudier@canal-plus.com
Running Time:
99 m.